Yngwie Malmsteen - Trial By Fire: Live In Leningrad (Japan 1st Press) (1989)
Heavy Metal, Hard Rock, Japan Editions | Author: master-sound | 6-04-2022, 15:09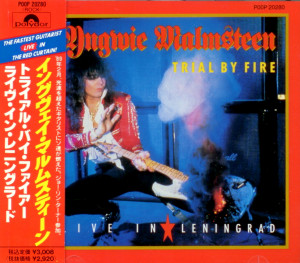 Artist:
Yngwie Malmsteen
Title Of Album:
Trial By Fire: Live In Leningrad
Year Of Release:
1989
Label(Catalog#):
Polydor (POOP 20280)
Country:
Sweden
Genre:
Hard Rock, Heavy Metal
Quality:
FLAC (*image + .cue,log,scans)
Bitrate:
Lossless
Time:
66:35
Full Size:
465 Mb
Tracklist:
01. Liar (03:57)
02. Queen In Love (03:55)
03. Deja Vu (04:06)
04. Far Beyond The Sun (08:17)
05. Heaven Tonight (04:27)
06. Dreaming (Tell Me) (06:35)
07. You Don't Remember, I'll Never Forget (06:04)
08. Guitar Solo (Trilogy Suite Op: 5 / Spasebo Blues) (10:16)
09. Crystal Ball (06:04)
10. Black Star (06:09)
11. Spanish Castle Magic (LP version) (06:45)
Bass, Vocals – Barry Dunaway
Drums – Anders Johansson
Keyboards – Jens Johansson
Mastered By – Howie Weinberg
Mixed By – Mark Dearnley
Producer, Guitar, Bass [Bass Pedals], Vocals, Arranged By, Mixed By – Yngwie J. Malmsteen*
Recorded By – Tony Platt
Vocals – Joe Lynn Turner
Recorded at Leningrad SKK Stadium.
Mixed at Battery and Livingston Studios, London.
Mastered at Masterdisk.
Made in Japan
(Red Flower Promo Sticker - Sample written around spindle)
Download for free
Dear music lovers!
I will restore the album if it is deleted within 24 hours!
write in personal messages!
Comments: 0 | Views: 216 |